Linguify For Localization
Expand your Horizons. Localize. Reach New Audiences.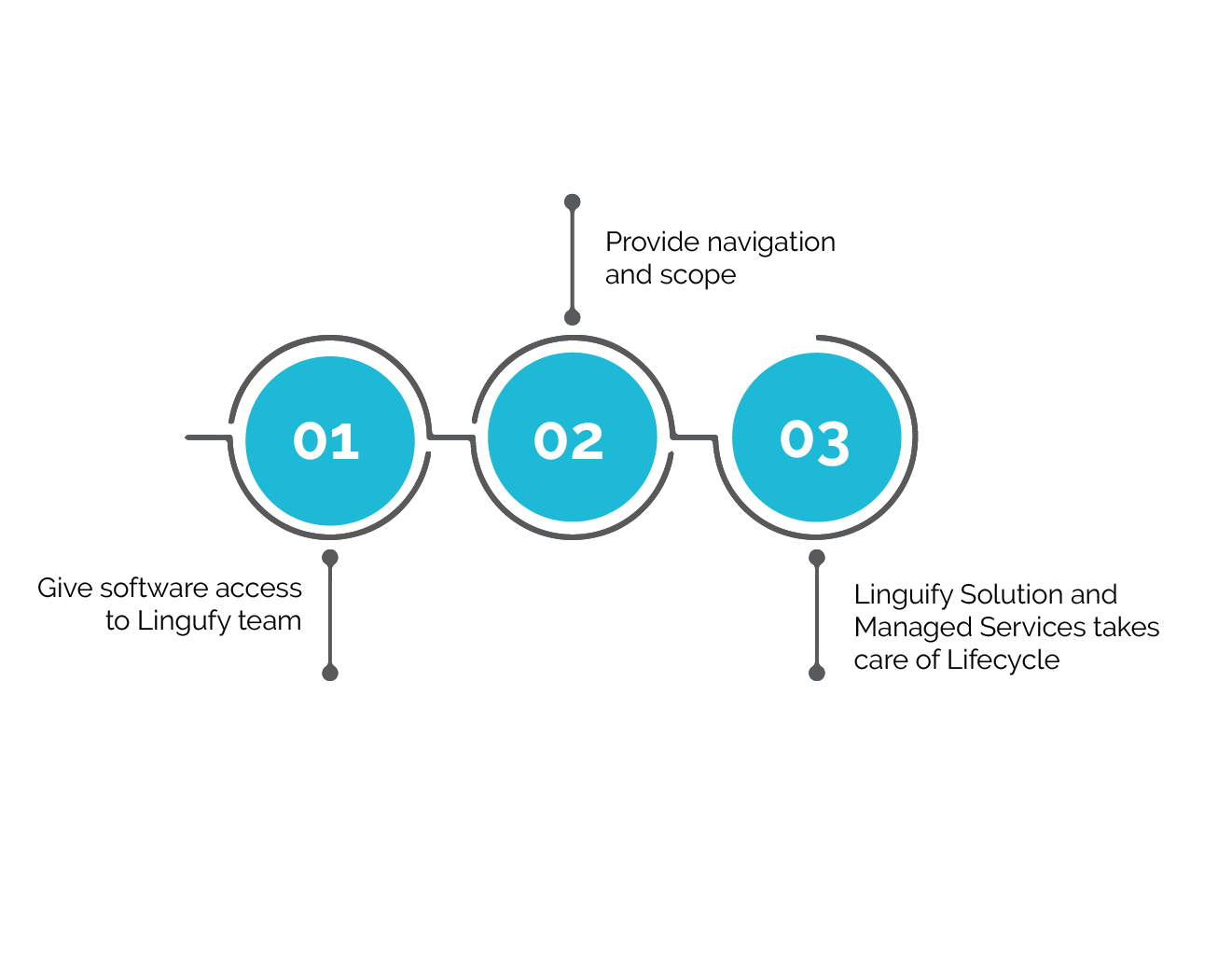 Overview
Linguify is the flagship product of LinguaSol with 80+ banks, PSUs, private enterprises using it effectively for 10+ years. Linguify is an external middleware product that can localize the UI (user interface) of any web - enterprise - desktop mobile - software application or website to any language without the need to modify the source code. This external approach makes Linguify a safe, secure and speedy way to localize complex enterprise applications and websites. The translation itself is manually done and not machine translation, thereby enterprise can assure the quality to their customers. The earlier complex multi-step time-consuming approach of software localization is obsolete and Linguify approaches the problem with a simple 3 step approach and promises to make the process pain-free and timely.
No Change to the Source Code or Database
Linguify localizes the UI including the data without any change or modification to the source code or database.
Translates Screens/Pages/Reports from any Application or Platform
Linguify is platform / language agnostic and can localize any application developed on any platform (.Net/Java/JSP/PHP/Python/QT/… )
Local PC / Cloud / On-Premise / Hybrid Installations
Linguify can be installed on Cloud /On-premise server with no client PC or device installation requirements.
Robust & Secure
Years of research and large scale development has resulted in software which is robust & secure solution.
Delivers High Performance
Linguify deliver high speed performance while displaying webpages or screens- there is practically no additional latency.
Ultra High Performance Automated Crawlers for Websites
Crawlers are used for initial extraction of text as well as change detection enabling quick translation and updates.
Translates UI, Data (Dropdown Values, Lists), Meta Tags, etc.
Linguify ensures that all elements on the Webpage /screen/Report are translated.
Translates HTTPS, SSO, Multi-domain Websites
It is essential that any localization project handles multiple domains, works in SSO mode and with HTTPS websites to ensure that all data is protected. Linguify ensures this during translation.
Easy, Non-disruptive Deployment & Scale-up
Linguify get deployed with minimum or no disruption of daily operations, and can be easily scaled up for more languages or higher loads.
Localization Solutions for Every Platform
Linguify Server Solution for web applications and websites
The Linguify Server solution translates web pages of any website or web application. The solution can be deployed on a wide variety of server landscapes and IT infrastructure. It sits behind the firewall and thus safeguards your translated web data.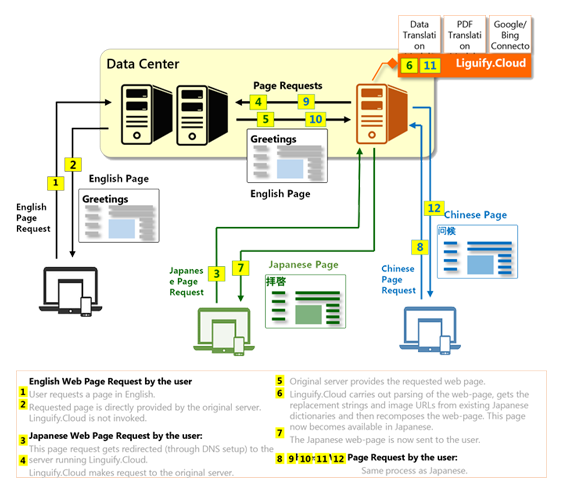 Linguify Desktop and Plugin Solution for enterprise software
The Linguify Desktop & plugin solution translates application screens and reports and can be installed on PC/Desktop. It has been endorsed globally and used by banks, PSUs and global enterprises.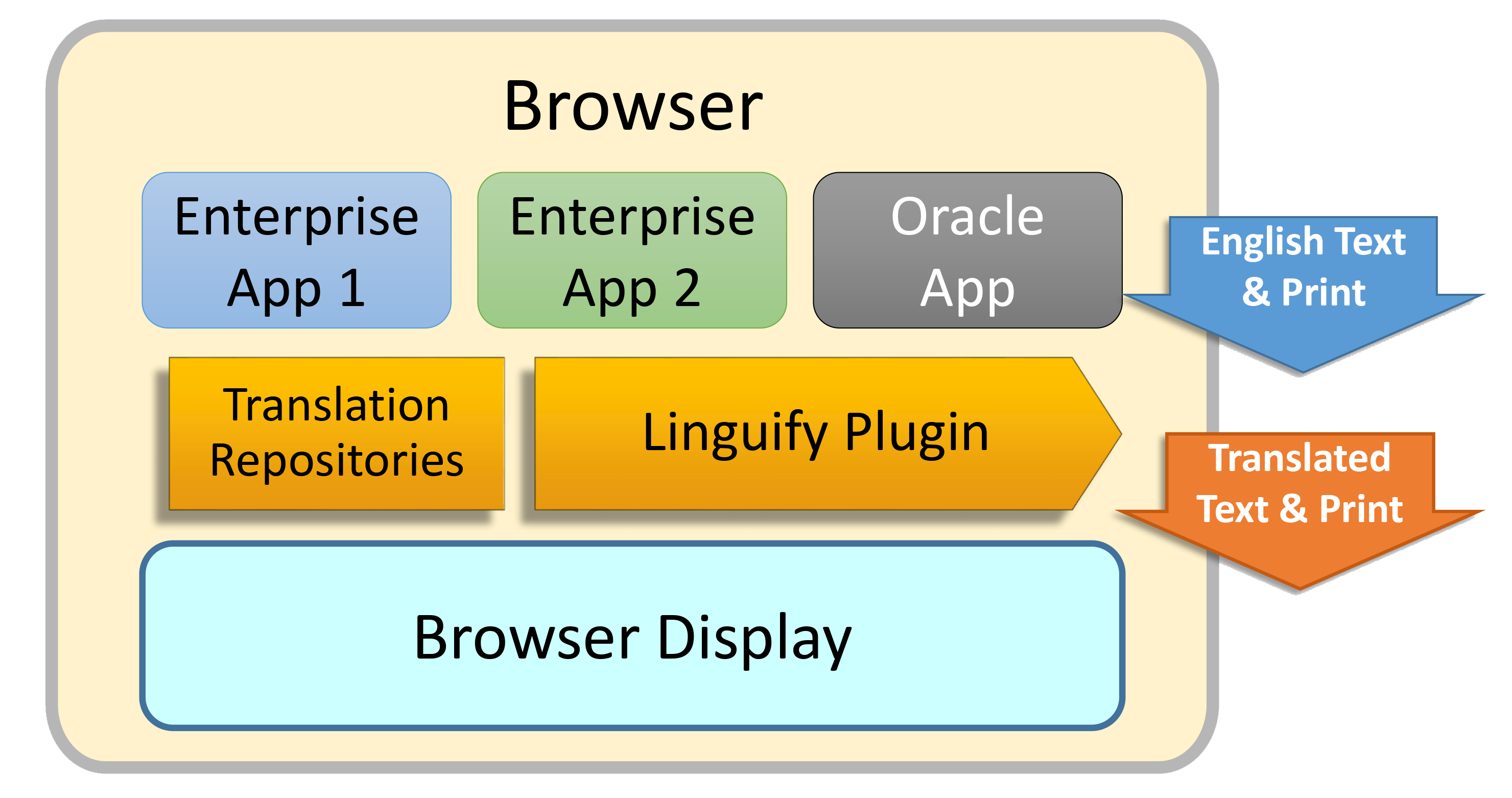 Linguify Report Solution for on-line printing and PDF
The Linguify Report solution translates on-screen reports, direct-to-print reports and other formats such as PDF, Excel, CSV etc. The solution also converts single language reports into bilingual reports, generates multilingual reports from raw data and can also carry out batch translation of reports.
Linguify Mobile Library Solution for mobile applications
The Linguify Mobile solution translates your Android application text and data. The switching between the languages can be real time based on menu selection. The library solution is integrated into the mobile application at build time. The library translates mobile UI, Application data and also performs dictionary updates. Translation of hybrid applications can leverage Linguify Server or LinguaMT for translation of web or dynamic contents.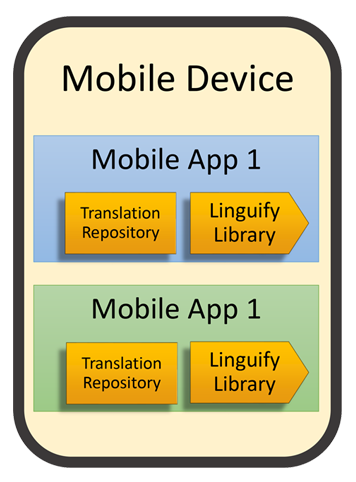 ---
To Get Localization Solution for Your Software Product or Website, Send a Message, Now!