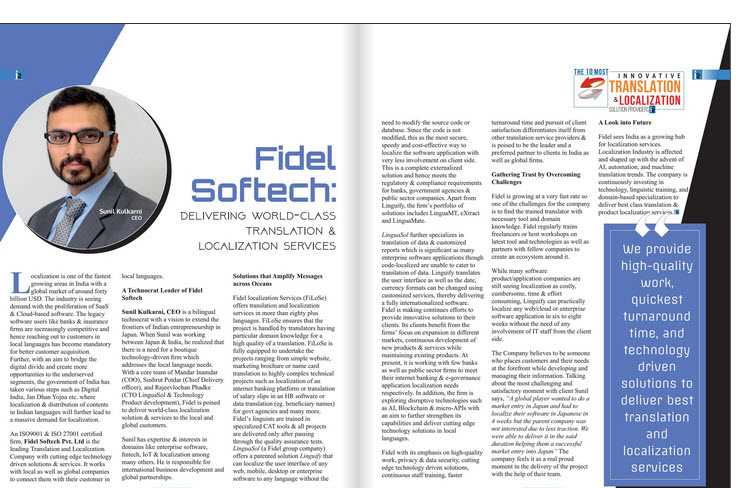 Fidel has been recognized as the top 10 most innovative Translation and Localization Service Providers in 2018 by the world's leading business magazine "Insights Success".
Fidel Softech Pvt. Ltd is delivering world-class localization services to the global and local customers. It is the leading Translation and Localization Company with cutting edge technology driven solutions and services in more than 80+ languages. Fidel Localization Services (FiLoSe) ensures that the project is handled by translators having strong domain knowledge for high quality result. Fidel linguists are trained in CAT tools and all projects are delivered only after passing through the high quality assurance test.
The Insights Success Magazine is the best medium, which shares the information of the particular industry, as well the critical information requires, demand to grow the businesses, the experience among top leaders and executives, mantra of success which will help the youngsters to learn, cater and deliver the business needs.
Insight success provides the best platform for the fastest growing companies in world. It is an arch that is encouraging entrepreneurs quench regarding technology and business update that is ruling the business world. It also provides a platform to all the 'C' Level professional, Managers and HR's of the companies, to wave their innovative style of doing business and the way of delivering effective and collaborative solutions to increase the market.
Fidel's Group Company – LinguaSol offers a 'Linguify' solution that can localize the user interface of any web, mobile, desktop or enterprise software to any language without modifying source code or database. This is a complete external solution and hence meets the regulatory and compliance requirements for banks, government agencies and public sectors. Apart from Linguify, firm's portfolio includes LinguaMT, extract and linguamate.
In addition to this, firm is exploring disruptive technologies such as AI, Blockchain and micro-API's with an aim to strengthen its capabilities and deliver cutting edge technology solutions in local languages.
Fidel also trains freelancers or host workshops on latest tool, technologies as well as partners with fellow companies to create an ecosystem.
Fidel is also having an expertise in domains like enterprise software, Fintech & IoT.
To know more please visit http://www.fideltech.com/ and https://www.linguasol.net/
Please visit following links
http://magazines.insightssuccess.in/The-10-Most-Innovative-Translation-and-%20Localization-Solution-Providers-July-2018/docs/Translation_Final%20File.compressed.pdf_28.jpg