Fidel Softech Ranked number One in the world, as fastest growing Language Service Provider (LSP) in the Years 2015- 16 as per the Common sense Advisory (CSA) Research's 13th annual market study report.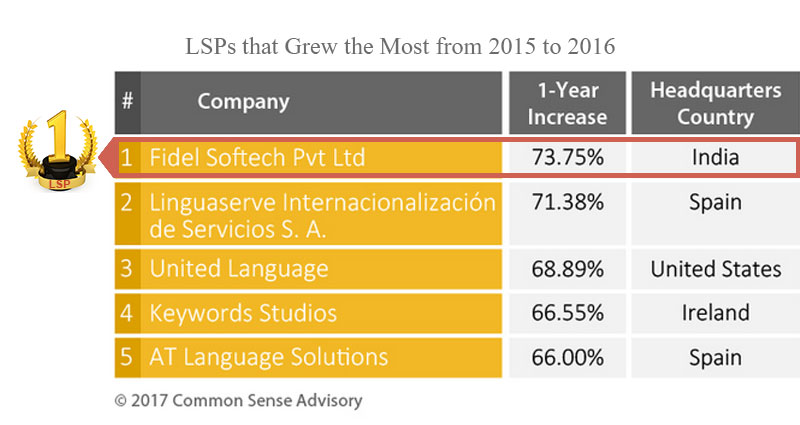 Common sense Advisory (CSA) research's annual market study sizes the language services industry and calculates a variety of business measures. One is the growth rate for overall industry; another is the performance of hundreds of individual suppliers that provide detailed revenue data to CSA's survey. LSP is a more current, commonly used term for a company that provides a broad range of translation.
Fidel Softech Pvt. Ltd. is a group company of Fidel Group and operates from India and Japan. It works in Translation, Localization, Voice Over and Interpretation. Fidel woks in 100+ languages covering European, Asian and African. It also works in RTL languages including Arabic, Urdu etc. Fast turnaround time is main advantage of Fidel's services.
What caused Fidel Softech to grow so much more than the global average is our purchase of a technology developer in India brought with it patents and enterprise accounts like IBM. More effective selling was also the most important component for Fidel along with organic growth.
This is a pride moment for all of us as we have been appreciated in world.
For finding more details please Click here.
Contact Fidel at infofidel@fideltech.com