Reports, Docs from ERP in Indian Languages
Do you need Reports, Documents, Bills in Indian Languages? Linguify works with ERP / Banking / Finance / Accounts / Stores software systems and give them in required language. All Indian languages supported.
Services
ERP Documents, Records, Reports, Receipts in Indian Languages

Reports from ERP in local languages
Get Reports generated through ERP in Indian languages using Linguify. All major ERP and systems supported in local languages.

Receipts, Bills, Invoices in local languages
Many times Receipts need to be generated in local languages to be understand by people. Linguify system helps to generate then in language of your choice.

Generate Documents in local languages
Many types of documents required in different sections to communicate. Generate all the documents in required language using Linguify.

Local language compliance for PSUs and Govt. Dept
PSUs, Banks, Government departments and undertakings are required to complied with language policy as per rule. Linguify makes it very easy.

Easy implementation of local languages
Linguify works with all major ERPs, Cloud applications, Banking systems and implements desired local language. Linguify team does it fast with zero code change.

Cyber Security using Linguify
Linguify is secured application as it does not require change in application code. Various configuration available depending on security name.
Approach
Get Documents in local languages
Generate all the documents in required language using Linguify. Our standardized localization approach for all applications optimizes costing and reduces complexity.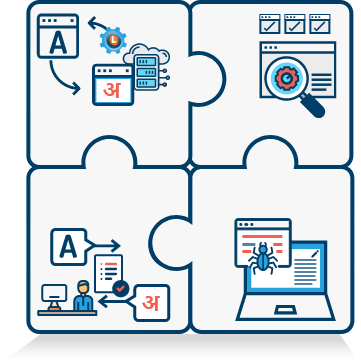 We Create Fully Connected Language Systems So You Can Focus On Your Business
We provides localization and translation solutions for all business needs.
Get Started Five Spheres. One Mission.
Fulfill all your multilingual requirements with a one-stop solution.
Languages
Connect with People in their language
Indian Languages:
Hindi
Bengali
Tamil
Telugu
Marathi
Punjabi
Kannada
Gujarati
Urdu
Malayalam
Odia
Assamese
Konkani
Kashmiri
Bodo
Dogri
Maithili
Sanskrit
Manipuri
Sindhi
Santali
Linguify also support Foreign languages.
Office
LinguaSol Pvt. Ltd.
4th Floor, Galore Tech Park,
Bavdhan, Pune – 411021. India.
Hours
M-F: 10am – 6pm
S-S: Closed