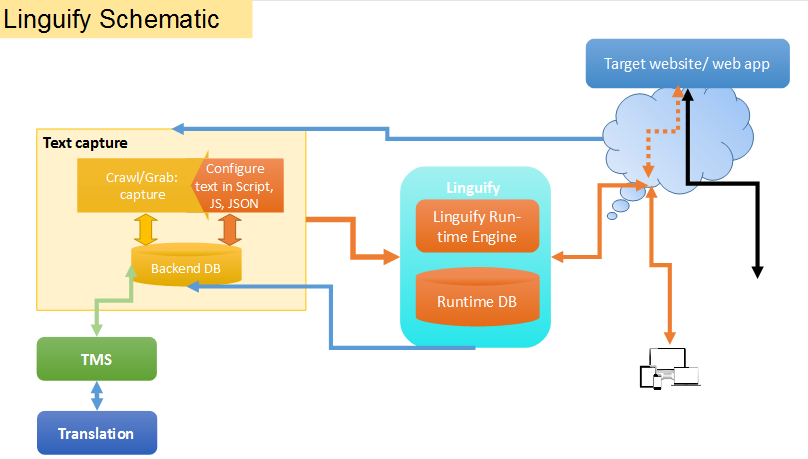 Linguify is a comprehensive translation solution, combining various capabilities, including those enabling extraction, translation, and change management. The solution doesn't restrict to run-time translations, and stands on four essential pillars – run-time translation, capturing, translation, and change management.
Unlike other translation solutions on the market, Linguify, alongside run-time translations, focuses on the preparation of translation, critical to the SEO efforts of enterprises.
Linguify's process of translation is divided into two parts – run-time translations, and database creation. If you are enterprise looking forward to deploying a comprehensive translation solution, you must go through the below process to understand the working of Linguify, and also get an idea of the factors that differentiate Linguify from other enterprise translation solutions around.
Run-Time Translations
While dealing with run-time translations, the system enables on the fly text replacement for run-time translation requests, and follows the below process.
User requests translation for a particular page
The request reaches the firewall, and then it reaches the web server
The web server redirects the request to Linguify's server
In response to the request, Linguify's server makes a page request call or request to the app server
The web server responds by sending the English page to Linguify's server
Linguify translates the page, and sends the translated page to the web server
Linguify does not translate automatically. It replaces English strings with the local language ones
The replacement process involves using already translated strings stored in the system's database. When the solution has to execute translations in run-time, it takes a page, finds out all the strings out of it, picks up strings one by one, and checks their availability in the database to use them.
In the end, the user receives the translated page
Creation of Database
Database creation comprises three elements – capturing, translating, and change management.
Capturing involves collecting texts through various tools such as Crawly and Graby, or else, sometimes, the user exports the database to Linguify
The second one is translation, which involves a backend translation framework – LinguaMate. When the page is translated, the translated output is stored in a database, and used by the run-time engine
The third process is change management, wherein the system keeps repeating the capturing and translating process, and keeps tracking changes. It involves different extraction strategies that comprise surface crawling for frequent changes, and deep crawl for pages undergoing less frequent changes. This way the system extracts, translates and keeps populating the dictionary
What makes Linguify a capable, and an apt translation solution for enterprises?
Look at the graphics below to get an overview about the components and capabilities that run at Linguify's backend.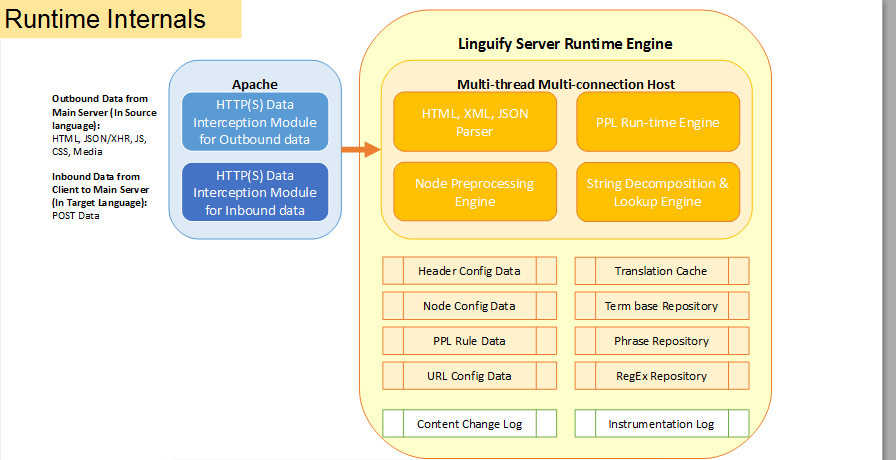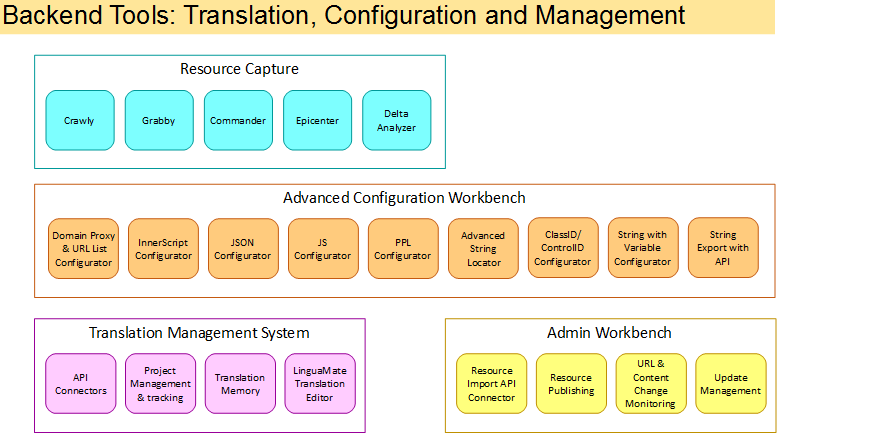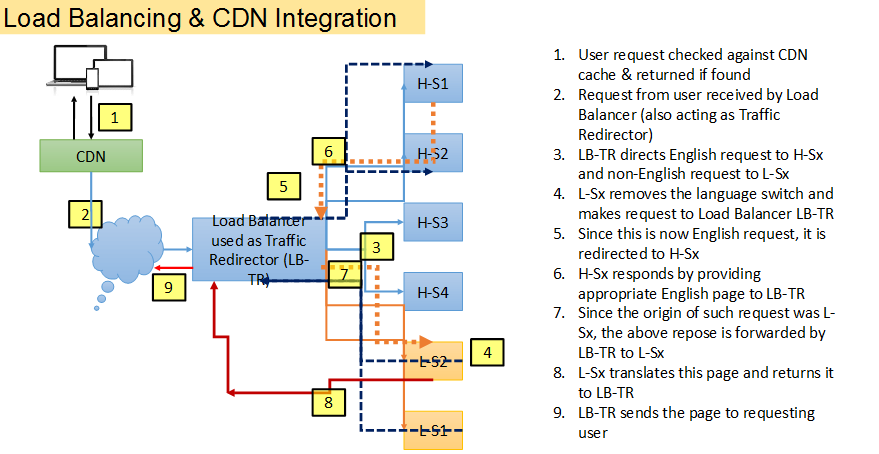 Turn Your Platform Multilingual